Services
Hope In-Home Care is a Medicaid certified home health agency that delivers personal care to patients throughout all seasons of their lives. Our certified and licensed professionals aim to provide the highest quality care to patients striving always for opportunities for freedom, dignity, and independence. We help patients find freedom and dignity in the comfort of their own homes. We offer the following services based upon personalized needs and physician recommendations:
24-Hour Emergency Response
Family Respite Care
Recreational Activities
Personal Hygiene & Dressing Guidance
Periodic Family Reviews
Sitters
Personal Hygiene
Caring Companionship
Medication Reminders
Meal Preparation
Shopping & Errand Services
Light Housekeeping
Laundry Services
Bathing Assistance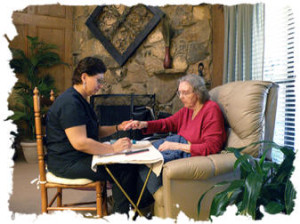 Even Choosy People Choose Us
Our trained, certified, and caring professionals take so much pride in helping patients receive nothing short of superior quality health care at home. We partner with family and loved ones to ensure that our patients have every opportunity available to enhance their quality of life. Our team of compassionate providers is only satisfied when everyone feels cared for and valued. We are standing by to deliver uncompromising care at an affordable price.
To find Hope-In Home Care services near you, please contact us today.